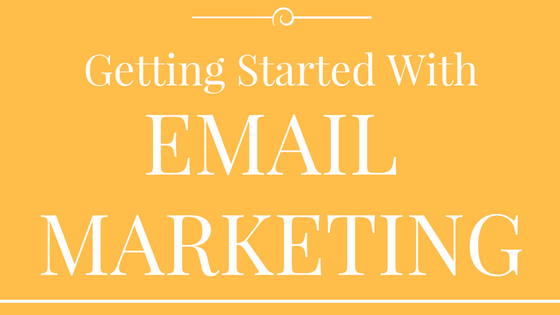 Email marketing should be at the top of your brand's to-do list. If it isn't, take another look at your list. Before social media, email was there. And as more and more social sites come and go, email continues to be there. Not many people have a MySpace profile anymore, but the majority of people still have the same email they had 10 years ago.
Email is the original social media, and it'll be here when everything else falls.
If you're not taking advantage of your email list, don't worry. You can start today.
Here's an email marketing quick start guide for beginners. Keep each of these things in mind as you begin your email marketing strategy.
1. Find the right email marketing system.
There are a lot of great platforms to use when it comes to email marketing. They come in all shapes, sizes, and price ranges, each with their own set of benefits. Here are just a couple that I love and think work well for companies just getting started.
2. Write engaging subject lines.
First impressions are everything, they say. And when it comes to email marketing, they're right. Your subject line is why someone does or does not open your email. 35% of people open emails based solely on the subject line.  
You want to make it intriguing, but you don't want to give away all the goodies within the email itself. After all, you want them to open it. Despite what some "experts" will tell you, don't be misleading in your subject lines. Your audience needs to learn to trust you, and trust what you send them. Sticking to 8 words or less is a best practice, as anymore can make it difficult to read on mobile devices.
3. Be yourself.
If you're not a super serious "professional" type company, don't try to be that way in your emails. Find the right layout for your emails and put your brand's personality into every email. People work with and buy from people the know, like, and trust.
Let them into your world, let them get to you know, build that relationship. People who like you  are much more likely to open your emails and click the links inside them.
4. Provide value in every email.
Whether it's your own stuff, or an awesome outside resource, one of your main goals is to teach your audience that emails from you come with value and are worth opening. Don't be afraid to share resources from other brand's. When people know they'll get value every time they open your email, and that you're not constantly trying to sell them, it becomes a lot easier to sell them.
5. Don't be afraid to ask.
Let's be real here; you're getting into email marketing with the goal of generating leads and sales. That doesn't mean you should be selling in every email, but it also means you shouldn't be afraid to sell in every email. Dropping a quick line about your newly released product or requesting some quick feedback from them at the end of your email is fine, as long as you've provided value to your audience and you don't beat them over the head with "buy from us" messages.
I love sharing resources from other professionals. And we've seen nice success from putting a "P.S." with 1-2 lines (max) about one of our services at the end of our emails. Don't be afraid to ask for the sale, or a share, or even a quick survey. If you've provided value in all your emails, they'll be happy to help.
6. Track and analyze.
Knowing when your audience checks their email is crucial. Knowing what subject lines work and don't work is crucial. Knowing what type of content generates clicks is crucial. Analytics are crucial.
Inboxes get flooded real quick, so to get the most out of your email marketing efforts, track everything you can, analyze results, and adjust your strategies based on those results. If your click rate on links to outside resources is 17% and only 2% to your own stuff, take a look at positioning and wording. If 8-word subjects are generating a low open rate, consider condensing it down to 3 or 5 words. Test emails with images in them, video embeds, multiple column layouts, text-only layout, etc. Do some A/B tests and analyze your results. Figure out what works and do more of that.
Email marketing can be the lead generation machine you've been looking for… if it's done right. Keep each of these things in mind, provide consistent value, analyze results, and get going today.
Don't even have an email list yet? Here's a nice guest post on www.coachingblueprint.com by Ashley Wilhite (yoursuperawesomelife.com) on 4 Steps to Create an Irresistible Opt-In Offer.